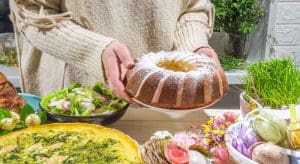 Are you looking for a small commercial kitchen for rent? Are you a caterer looking for a safe and licensed space? Look no further! Our state-of-the-art kitchen is fully equipped, licensed and ready for you to start cooking up a storm.
Conveniently located near the intersection of Berks County, Chester County and Lancaster County, our kitchen is easily accessible and perfect for food entrepreneurs, catering companies, and anyone else looking to rent a commercial kitchen on a short-term or long-term basis.
Our kitchen features top-of-the-line equipment, including ovens, stoves, refrigerators, and more. We also have a variety of prep stations, storage areas, and a 3-bay sanitizing sink to ensure that you have everything you need to efficiently prepare and store your food.
In addition to our state-of-the-art equipment and commitment to cleanliness and safety, we are also proud to be a serve-safe certified facility with a full restaurant license.  This means that we have gone through rigorous training and certification to ensure that we are following all necessary food safety protocols and we also have the business license to operate a Pennsylvania Restaurant.
Our team is fully trained and knowledgeable about food safety, and we have a manager on-site at all times to ensure that everything is running smoothly. This means that you can trust that your food is being prepared in a safe and responsible manner when you rent our commercial kitchen.
So if you're looking for a commercial kitchen for rent that prioritizes safety and cleanliness, check out the kitchen at The Inn at Twin Linden. Our serve-safe certified facility and on-site manager will give you peace of mind and allow you to focus on what you do best – creating delicious, high-quality food. Contact us today to learn more about how we can help your food business succeed.